Whether you're new to Downtown or Midtown Mobile or a long-term resident, come join us at Government Street UMC on Sunday. You will be warmly welcomed and inspired by the word of God through the teachings of Jesus Christ. If you are looking for a church home, you are important to God and you matter to us! Should you be a long-time Methodist or a seeker who is just beginning their Christian walk and are interested in following the path of Christ, know that you are welcome here!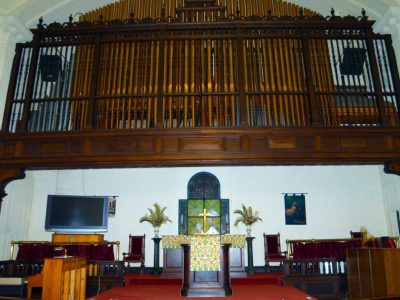 Sanctuary
10:00 a.m. | Traditional
Join us for our worship service which features historical and factual teachings of Jesus Christ and how these ancient lessons still apply to our everyday lives. Communion is celebrated every Sunday and All are invited to join at the Lord's table.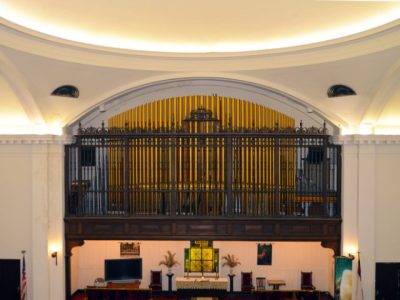 Sanctuary
6:00 p.m. | Quarterly Hymn Sing – check our Calendar for Dates.
Join us for some traditional hymn singing and enjoy the grand musical sound of our 100 year old pipe organ.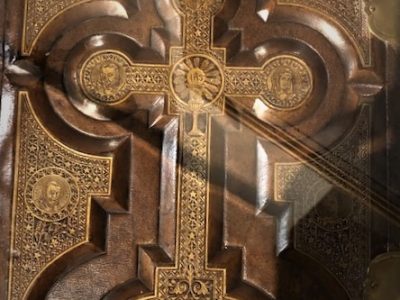 Class Room
6:00 p.m. | Bible Study
Come share in a casual community gathering and study the Bible and Jesus's teachings.
What to Expect
We want you to be comfortable while visiting Government Street UMC. Here is some basic information.
What should I wear?
Come as you are. On a typical Sunday and on most occasions, you may see people in jeans, casual clothing or a coat and tie.
Where do I park?
We have some parking at the Government Street property which can be accessed from Government or Broad Streets, plus there is a larger parking lot at the Southeast corner of Government and Marine. For those with special needs, we have handicapped parking available next to the church on the West side of the sanctuary.
Where do I go once I'm inside?
Our 10 am service and Hymn Sings are held in the sanctuary behind the red front doors of our church building on Government Street. We have greeters who will be happy to assist you and answer any questions you may have.
Our Bible Study groups are held in our Fellowship Hall or another Meeting Room – enter the Western side door of the church for these gatherings.
What should I do if I have kids?
Children of all ages are welcome in the worship service and Hymn Sings.
How can I learn more about the church and its beliefs?
At GSUMC, we understand that each individual is on their own path to know and follow Jesus Christ. You may have just begun your journey or may have been serious student of the word of God for a lifetime. We invite you to explore the Bible Study classes both on Sunday at 9 am and Wednesday at 6 pm which offer a round-table, in depth examination of the words of Jesus and how they apply to our everyday lives in these times.