The story of Government Street United Methodist Church really began as far back as the 1820s when Mobile was becoming a developing seaport, and the only Methodist mission here a thriving "hive" of activity. Hence the nickname "Bee Hive" which was said to describe "the character of the [mission] organization as industrious and harmonious workers in benevolent and Christian enterprises." Through two centuries of change, five church buildings, various church names and dozens of ministers, that description still holds true today.
The nickname took on even more profound meaning as the first congregation subsequently sent out "swarms" of members to form new Methodist churches in the area. The first "swarm" in 1840 formed what became St. Francis Street Church. A second group was sent out to organize West Ward, which became St. Stephens Church. Shortly thereafter, some of its members would assist in establishing Dauphin Way Church. In 1842 a third "swarm" formed today's Big Zion AME Zion Church. A fourth established the German Mission, and a fifth "swarm" started Toulminville Mission. In 1851 a sixth group established South Ward, today known as St Paul's in West Mobile. The final "swarm" was sent out in 1854 to begin State Street AME Zion Church. The point being, all Methodist and Episcopal churches in Mobile can trace their origins to the original "Bee Hive", as that had first been established as a Methodist-Episcopal denomination.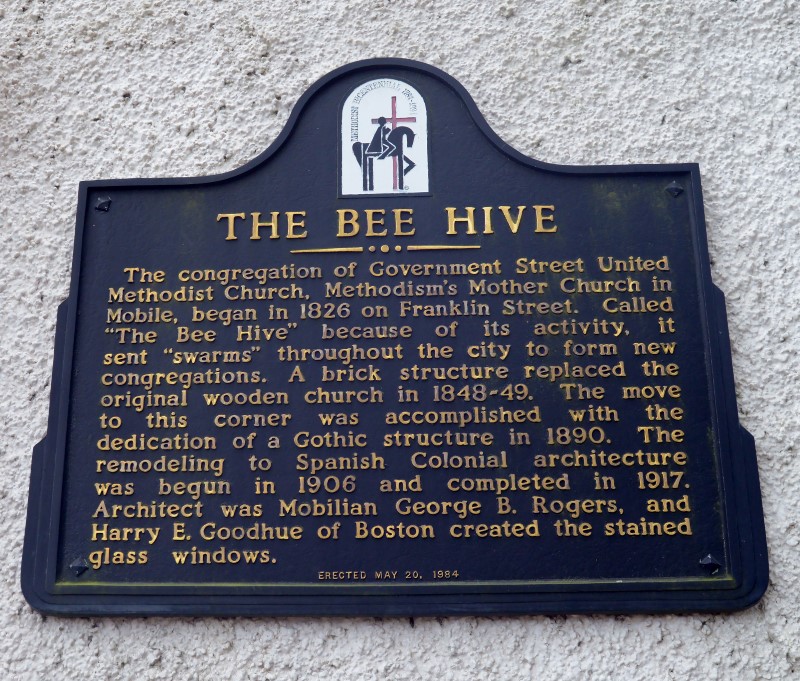 A church on Franklin Street was built in 1849 just three blocks from the St. Francis Street location, and was used by this congregation until 1890. What with the city growing westward, they elected to build a Gothic structure at the corner of Government and Broad, whose foundation upon which the current Spanish Colonial church now stands. By 1906 the congregation had grown such as to have commissioned the esteemed architect George Rogers to enlarge the sanctuary, including addition of the magnificent Fellowship Hall that was said to rival the beauty of the foyer in the Battle House hotel downtown, at which point the exterior façade was transformed to its present style.
Construction was begun in 1906 and completed in 1917, featuring not one but two stained-glass domes, plus the largest (and still beautifully functional) two-manual pipe organ. The priceless domes and sanctuary windows were created by the foremost medieval translucent art-glass architect, Harry Goodhue, of Boston. The façade of the building itself contains an elaborate panoply of Baroque styled early Christian symbols.
Government Street United Methodist Church has been a vital part of Mobile's rich religious and architectural heritage, and remains an integral part of its present and future, what with its location interfacing the downtown and midtown areas. As such, there has been a great deal of excitement around the church during the past two years as we have been funded to refurbish and restore this landmark to its former grandeur. The response of the surrounding communities has been such that we're now witnessing pews and classrooms being filled with genuine worshipers and disciples longing to get back to their original roots.